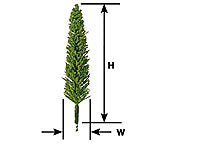 PLASTREES CONIFER TREES

Quality, ready-made, Conifer style trees for instant landscaping. Sturdy, yet realistic, at very reasonable prices. Varying shades of green randomly packaged in clear tubes for protection. Hand fabricated from nylon, wire and foam. Sizes above 25 include brown taped trunk. See Plastrunks later in this Catalog for a realistic looking trunk base. Height includes the appropriate trunk length.

Dimensions are approximate and may vary.

UPC Package Quantity represents the total Trees in the package, and is the same quantity as listed in our printed Catalog.