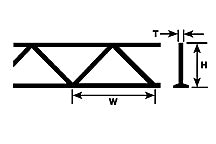 OPEN WEB TRUSS - WARREN STYLE 1

Excellent for towers and booms. Also good for roof trusses, bridges, conveyors, and space frames. Tee flange on one edge only allows easy registered assembly for triangular and square sections as pictured at left. Protruding side of flange may be removed if desired. Precision Injection Molded in Dark Gray ABS Plastic.

Ideal for all outdoor or professional model construction where model life is critical. High impact characteristics provide durability, flexibility and longevity of the model.