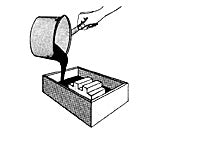 VINYL MOLDING COMPOUND

Meltable, flexible molding compound, ideal in forming flexible molds for casting reproductions with most casting resins. Made of a composition of Vinyls, few tools and only simple equipment are required. Can be rendered for mold making by low to medium heat on a domestic stove using a saucepan. Unlike most other flexible mold compounds, worn or obsolete molds may be cleaned and re-melted many times over, dependent upon the care and control exercised during melting. Instructions and safety data included. 1 lb. (.45 kg.) package.

Melting temperature is 302¡-338¡F (150¡C-170¡C); pouring temperature is 284¡-302¡F (140¡C-150¡C).