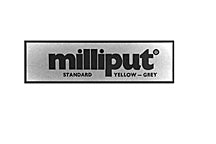 MILLIPUT EPOXY PUTTY

Three grades of two-part epoxy putty for modeling, repairing household items or sculpting. Works like putty, hardens like rock in two to three hours, and may be machined like plastic or wood. Adheres to and will seal or bond metals, wood, plastics, glass, ceramics or even cement.

MEP-1 and MEP-2 are for general use, while MEP-3 is preferred where fine detail is desired.