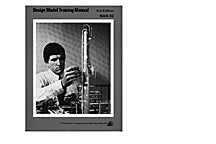 ENGINEERING & ARCHITECTURAL BOOKS

DESIGN MODEL TRAINING MANUAL (MAN-2)

Written for upper level education, this book explains the uses and limitations of models as an engineering tool. The goals include becoming familiar with the uses of models, thinking in three dimensions, broadening the students piping background as well as step-by-step instructions to constructing the Kit-5002. During the model construction, students learn machinery use and safety, blueprint reading, modeling procedures and piping design. Written by ENGINEERING MODEL ASSOCIATES, INC. 136 pages.