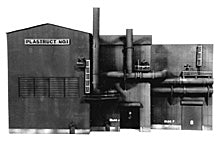 STEEL MILL FAKEFRONT KIT

This Kit, developed by Dean Freytag to fill a void between two areas of the Fellows Steel Mill, is an impressive, yet simple, structure. The left building, originally intended as a hot metal car / ladle additive facility, is 12Ó (300mm) high x 9Ó (225mm) wide and only 3-1/2Ó (88mm) deep. The center and right buildings, intended as part of the supporting buildings for the basic oxygen furnace, are approximately 10Ó (250mm) high x 13Ó (325mm) wide, and 2Ó (50mm) deep (center building) and flush (right building). However, donÕt be limited by these intended uses.

This Kit has the versatility to switch building positions and can easily be adapted as part of many industrial by-product facilities. It can also be used in multiple scales! A must for all layouts incorporating a steel mill or other industrial facilities.

Dimensions are approximate.