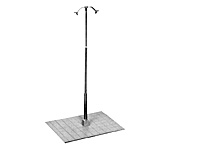 TWIN LAMP POST KIT

Simple to build 45Õ Twin Lamp Post with numerous uses including railroad service, terminal and yard lighting, or city street, industrial and security lighting. These lamp posts look best when used in multiples, and can help to visually group or integrate various viewing areas on your layout. They fit any time period between 1950Õs and today, and are typical of those found in industrualized nations.

This Kit consists of four lamp posts.

Dimensions shown are approximate.