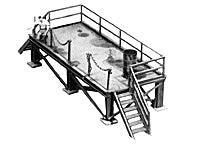 SERVICE PLATFORM KITS

Service Platforms are an integral and common part of a locomotive maintenance and repair yard. These all-welded steel structures can be easily modified to meet most needs including loading docks or ramps. Place these platforms throughout your layout wherever maintenance or loading is performed.

Kit contains enough material for two ÒstandardÓ platforms.

Dimensions shown are approximate.