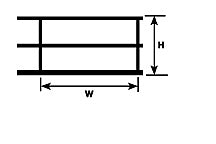 ABS HAND RAILS

Use for hand rails on platforms, walkways, balconies and any other elevated structures with public access. Precision Injection Molded in Gray ABS.

Ideal for all outdoor or professional model construction where model life is critical. High impact characteristics provide durability, flexibility and longevity of the model.

Tip: ABS hand rails may be curved to fit circular applications by softening them in warm water or heating with a hair dryer.