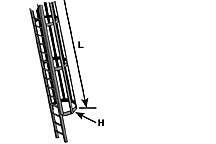 STYRENE SAFETY CAGE & LADDER SET

Use on towers, tanks, buildings and other tall structures where a ladder is perpindicular (or 90¡) to the ground. Precision Injection Molded in White Styrene Plastic. Ideal for all professional model construction.

UPC Package Quantity represents the total pieces in the package, and is the same quantity as listed in our printed Catalog.