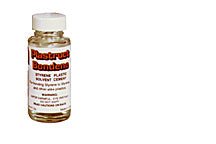 BONDENE SOLVENT CEMENT
A specially formulated solvent cement for fast, permanent bonding of most similar plastics, including Styrene. Quickly bonds ABS to ABS, Styrene to Styrene, Butyrate to Butyrate and Acrylic to Acrylic. Actually melts the surfaces together, creating a bond as strong as the surrounding areas. Full coverage attained by capillary action. Comes with applicator brush in cap.
***** WARNING: This product can expose you to chemicals, which is known to the State of California to cause cancer.
Note: L Dimension represents liquid contents. CAN ONLY BE SHIPPED VIA GROUND (SURFACE) SERVICE.