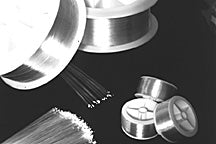 CLEAR FIBRE OPTICS LIGHTING

Use the lighting technique of tomorrow, today. Light an entire city with one light bulb. Verasatile and easy to use; instructions come with each purchase. The only thing not included is the light source. Available in loose strands or on bulk spools.

FOP-4000 is a jacketed multi-strand bundle.

Colored Fibre Optics are also available; see Code Prefix FFO .

UPC Package Quantity represents the total weight in the package, and is the same as listed in our printed Catalog.