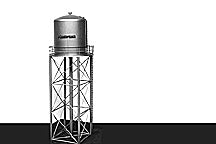 UTILITY WATER TOWER KIT

This flat bottom, dome roof Utility Water Tower is typically found at factories for fire water. Municipalities also employ these towers for potable water and as a means of maintaining water pressure. Legs may be shortened or even eliminated completely so that the tank can be installed on a building roof. All-welded water towers became popular in the mid-1930Õs and are still being constructed today. Adding rivets along the weld lines can date this tower back to the early 1900Õs.

Dimensions are approximate, and they and capacities vary dependent on scale.