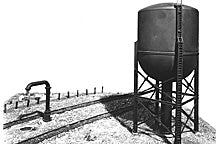 HEMI BOTTOM WATER TANK KIT

This realistic modern Hemispherical Bottom Water Tank holds approximately 100,000 gallons and was used by many railroads during the busy steam era. Complete with a separate water spout and drain, this tank was commonly found in servicing facilities as well as along trackside. All-welded towers were constructed from the mid-1930Õs to present day. Adding rivets along the weld seams can date the tank back to the 1900Õs. Landscaping not included.

Dimensions shown are approximate.