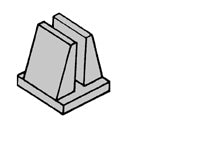 ABS H COLUMN BASE MOUNTS

Use to quickly and effectively mount vertical columns (codes H-4 through H-24) to your model base. Precision Injection Molded in Dark Gray ABS Plastic.

The H Dimension represents the actual size of the corresponding H Column. Note, you may also use BM-16 for H-18 and BM-20 for H-24.