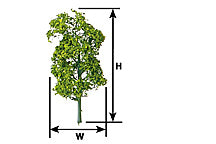 PROTREES SYCAMORE TREES

Professional-quality, ready-made, Sycamore style trees for instant landscaping. Sturdy and extremely realistic. Varying shades of green randomly packaged in clear tubes for protection. Completely hand fabricated from etched brass and foliage. Brass armature is painted brown. Height includes the appropriate trunk length.

Dimensions are approximate and may vary.

THE choice of professionals.

UPC Package Quantity represents the total Trees in the package, and is the same quantity as listed in our printed Catalog.