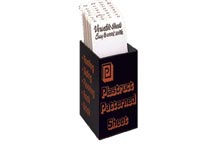 DOLLHOUSE SCALE PATTERNED SHEET DISPLAY
This display contains a selection of Plastic Patterned Sheets including Stone, Clapboard Siding, Brick, Block, Interlocking Paving, and Roofing. Vacuum formed 7" x 24" (175mm x 609.6mm) Styrene Sheets are much easier to work with than wood.
The display contains approximately 70 of the 7" x 24" patterned sheets and requires less than one square foot of counter-top of space.  Heavy gage divider cards and pre-printed labels provide organized separation of each product.